Canadian Links
HI, my name is Brenda and I'm Canadian!!


<

Links to Canadian Country Music Artists:

if I missed someone you would like to see here, please email me with the url

Shania Twain!
Jason McCoy Homepage
Farmer's Daughter Homepage
Prairie Oyster Homepage
Paul Brandt-Canadian Man!!
Terry Clarke

Canadian Country Music Association


Send a card to Kith and Kin!!!


123Greetings

Links to Canadian Comedy Sites:
Did you ever wonder???
---

THE CENTER FOR THE EASILY AMUSED! The best comedy site on the web, and IT"S CANADIAN!!! She also has many links to more comedy.
Take a gander...
Compiled by Kathy
Walker of Victoria. Includes moderated chat room, loads of links.Gentle Humour!

---
YukYuks Comedy Club
A Joke a Day! Comedy horoscope updated monthly.

---
Backgrounds
Graphics
Bars
Midis with Lyrics
Bill Gates House
My Genealogy Page
About Me
The Better Half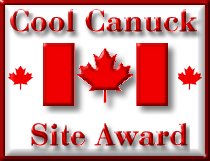 Sign My Guestbook
Now playing,"Maple Leaf Rag" for all you Canadian Country Music Lovers out there...*grin*